December 21, 2015
Written by Patrick McNamara
We sure have had some pretty chill times together this year, haven't we?
But just in case you forgot (it's cool I'm always forgetting stuff too which is why I had to research the ____ out of this article) here's a brief look back on some of the solid hangouts we've had before we say goodbye to the year that still is but almost was.
We told you about the 10 hardest working bands of 2015 and you should read that really great article in it's entirety in order to get the full effect of our sick statistical analysis but in case you don't want to here's a tease:
1. We listed 39 shows for Pill in 2015
2. We listed 38 shows for Tall Juan in 2015
3. We listed 36 shows for Acid Dad in 2015
4-20. You're just going to have to read the really great article.
I created a playlist featuring most of these hardest working bands because I'm always doing super chill things like that.
We told you about the 50 most saved shows (by readers just like you) of 2015. How many of those big time shows did you go to? Tell us on Twitter and help make Twitter fun again.
(If you don't know what "saved" means you probably don't have a "My Rockness" account and that's fine but just so you know it's completely free and we built it from scratch to make your show going life chiller by allowing you to do cool things like save upcoming shows you don't want to forget about. Check it out it's just sitting there waiting for you but all good either way no worries I'm OK you're OK everything is chill.)
Most Saved NYC Shows in 2015
1. Caribou at East River Park Amphitheater (190 saves)
2. tUnE-yArDs aT pRoSpEcT pArK bAnDsHeLl (lUv u, tUnE-yArDs)(157 saves)
3. The New Pornographers at Prospect Park Bandshell (150 saves)
4. Belle & Sebastian at Radio City Music Hall (138 saves)
5. Interpol at Prospect Park Bandshell (if Interpol was still stuck on the side of the road in their tour bus during that terrible Buffalo snowstorm of 2014 they would have been stuck there 10,203 hours by now) (122 saves)
6-50. You're just going to have to read the really great article
Here's a Caribou song. That's the prize for being the most saved show of 2015 on Oh My Rockness, I guess.
I (Patrick) told you about my 15 favorite songs of 2015 (read, love) and as a special exclusive extra for this exciting year-end recrap....errrr....recap I also went ahead and made this playlist for you featuring those favorite songs of mine because I'm always doing chill things like that.
Claire didn't tell you about HER favorite songs of 2015, though……….until now!
FOR IMMEDIATE RELEASE: PRESENTING: CLAIRE ROCKNESS' FAVORITE SONGS OF 2015
(that they're listed in alphabetical order is a complete coincidence)
1. Alex G - "Brite Boy"
2. Beach House - "Space Song"
3. Chastity Belt - "IDC"
4. Cold Beat - "Spirals"
5. Dilly Dally - "Desire"
6. Forth Wanderers - "Tough Love"
7. Girlpool - "Ideal World"
8. Hop Along - "Buddy in the Parade"
9. LVL UP - "Soft Power"
10. Majical Cloudz - "Downtown"
11. Oberhofer - "Sun Halo"
12. Sorority Noise - "Using"
13. Summer Moon - "With You Tonight"
14. Twerps - "Back To You"
15. Upset - "Away"

Did I quickly make a playlist for you featuring some of Claire's year-end hits? I sure did. File Under: Chill.
I told you about the time we (Claire + Patrick - we're married) took our little kids to FYF Fest....
...and a bunch of silly things happened and we left mad early (wayyyyy before Kanye) but we did see Alvvays and I've played this really good song many times this year so including it in this article actually makes total sense.

I profiled these 124 bands in 2015 (no I'm not joking and, yes, I counted):
Reservoir, Lazyeyes, Meat Wave, Quarterbacks, Sick Feeling, Palm, The Goodbye Party, Free Cake For Every Creature, Host, Leave the Planet, Bliss, House Olympics, Runaway Brother, eskimeaux, Del Paxton, Adventures, Nine of Swords, Slutever, CSTVT, Gulfer, Cool Ghouls, No Parents, Doubting Thomas Cruise Control, Ed Schrader's Music Beat, Rye Pines, Monobody, Lieutenant, Needs, Young Guv, Chastity Belt, Turnover, Pill, Mourn, Annabel, Walleater, Free Throw, Somerset Thrower, Totorro, Yazan, Jerry Paper, Basement, Jackson Browne, Pile, Warehouse, toe, Lull, Terror Pigeon, Teen Men, The Appleseed Cast, Thin Lips, Young Romance, Downies, Soda Bomb, Gingerlys, Westkust, Makthaverskan, Winter, Summer Moon, Battle Ave, Mercury Girls, Hethers, Izzy True, Weaves, Muuy Bien, Manatree, Diet Cig, Tomboy, Day Wave, Wildhoney, Media Jeweler, Gnarwhal, Funeral Advantage, Blank Realm, Adjy, Radioactivity, Scout Boys, Retox, Painted Zeros, The World Is A Beautiful Place & I Am No Longer Afraid To Die, Teen Commandments, Jawbreaker Reunion, Tender Defender, The Gotobeds, Car Seat Headrest, Peach Kelli Pop, Childbirth, Cold Beat, Dilly Dally, WOMPS, Nudes, Nonsense, Forth Wanderers, Ultimate Painting, Steep Leans, So Hideous, Expert Alterations, Shopping, White Reaper, The Spirit of the Beehive, Yung, PWR BTTM, Chastity, Arm Candy, Nai Harvest, Hooton Tennis Club, Wild Moth, Froth, Dead Soft, Laced, Dreamcrusher, Tall Juan, Mal Devisa, Yonatan Gat, Fern Mayo, Haybaby, Julien Baker, Mass Gothic, Vicky Speedboat, Language, Whitney, Cloakroom, Pentimento, Katie Ellen.
I was going to make you a playlist that included all 124 of the bands I profiled in 2015 but I kinda want to enjoy the holiday season just a little bit if that's cool with you so instead here's the video to "Busta Move" by Young MC.
I think that about covers everything we did this year, the chillest of it anyway.
Hope you liked what you've read on Rockness this year. We try!
Thanks for visiting our little friendly laid-back local DIY music blob. We appreciate your support.
Happy Holidays.
Love,
Patrick + Claire
Oh My Rockness
P.S. Buy one of these sick t-shirts, please.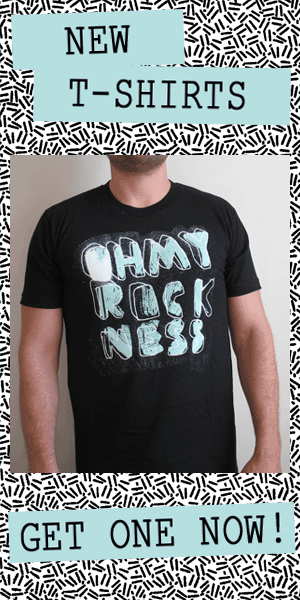 2015 INDEX:

NYC'S HARDEST-WORKING BANDS OF 2015 >>